Palette 3 Pro
Simple multi-material 3D printing
MATERIAL SWITCHING
Up to 8 Materials
Automatically switches mid-print.
Intelligent software
Simple & Powerful
Slice, paint, print and manage.
connected
Easy

Setup
Power it up and connect to get started.
Palette 3 pro
Multiple colours, infinite potential
Communicate your ideas with realistic, multi-colour prints. Palette 3 Pro enables you to achieve prints with up to 8 different colours.
Palette 3 pro / Palette 3
Multi‑Material 3D Printing
Achieve high-quality, functional prints with flexible or rigid materials, or simplify prints with challenging overhangs using breakaway or soluble support.
Palette 3 pro
3rd Generation Splice Core Pro
Engineered to strategically splice filaments, our Splice Core Pro allows your Palette 3 Pro to reach up to 10% faster splicing and cooling speeds.
Palette 3 pro
Automate your filament
If a spool runs out, Palette will automatically splice to another spool and keep your print going. With up to 8 spools available your prints will always continue to run.
Palette 3 pro / Palette 3
A modern 3D printing experience
To create a more seamless experience, Palette 3 comes with built-in WiFi connectivity to connect your Palette, your printer and your computer.
Customize, Store and Slice
Experience a simple, powerful software suite. With our easy-to-use Canvas software you can slice, paint, stamp, and manage all your prints in the cloud.
Reliable, Plug and Play Materials
While Palette 3 will work with most 1.75mm 3rd party filaments, Mosaic's tight tolerance PLA ensures the most reliable printing experience for your Palette 3 and printer.
Compatibility
Open 1.75mm filament,
.gcode/.x3g (and more)
Ultimaker and Lulzbot machines
Purchase
Palette
Simple multi-material 3D printing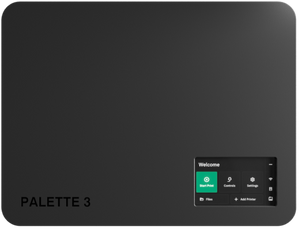 | | Palette 3 Pro | Palette 3 |
| --- | --- | --- |
| PRICE | $799 USD | $599 USD |
| MATERIALS | 8 Materials | 4 Materials |
| WARRANTY | 2 Years | 1 year |

Palette 3 Pro

Palette 3

PRICE

$799 USD
$599 USD
MATERIALS
8 Materials
4 Materials
WARRANTY
2 Years
1 Year
Palette 3 Pro
Simple Multi-Material 3D printing
Palette 3 Pro
Simple Multi-Material 3D printing
In Stock
Communicate your ideas with realistic, multi-colour prints. Palette 3 Pro enables you to achieve prints with up to 8 different colors.
See full specifications below.
PALETTE 3 PRO SPECIFICATIONS
Dimensions
Properties
Operation
Platform
Service and Support
Material Compatibility
What's Included
Dimensions:
Net Weight:
Construction:
Power Supply Input:
30.9 x 23.5 x 7.4 cm
3.2kg
Durable PC-ABS and aluminum construction
12V / 4A
# of Inputs:
Control Interface:
8
4" Touch Screen, Canvas (via web browser)
Splicing Technology:
Splicing Speed:
Filament Runout Detection:
Build in Canvas Hub Functionality:
Controllers:
3rd generation splice Core PRO (P3-SCP)
Up to 10% faster than Palette 3, 30% faster than Palette 2
Yes
Yes
ARM Cortex M4 Processor & Compute Module: -Quad-core 1.4GHz ARM Cortex-A53 Processor -1GB LPDDR2 SDRAM -8GB eMMC Flash Memory
Supplied Software:
Browser Compatibility:
Internet Connection:
Data Interface:
IO Ports:
Wifi:
Canvas
Chrome, Firefox, Safari
Required for Canvas usage and firmware updates
Canvas (via WiFi / Ethernet)
USB-A (x2), USB-B (x1), Ethernet (1x)
Yes (2.4 Ghz, 802.11b/g/n)
24 months, or 50,000 splices
Mosaic Customer Support team
1.75 ±0.03mm PLA, PETG, ABS, (EXPERIMENTAL - TPU, PVA, HIPS) Shore hardness of 95A or harder
Palette Getting Started Manual
Palette Unit
Buffer tubes (4x on P3P, x2 57cm tubes, x1 80 cm tube, x2 110cm tube)
Filament spool holder (2 brackets and 4 metal rods)
Metal stand
Power supply
USB-B to USB-A cable (connect palette 3 to 3d printer)
Micro usb to usb-a cable
Extruder clip
Velcro pieces (x4)
Splice core buffer tubes (x4)
USB thumb drive
Torques head screwdriver
FREQUENTLY ASKED QUESTIONS
Replacement parts can be purchased through the Mosaic website or by contacting our support team at support@mosaicmfg.com! Shipping costs will be calculated at checkout.
Shipping will be calculated based on your location, at checkout.
Yes. For Palette 2, 2S, or 3, the warranty period is 12 months or 25,000 splices. Extended warranty may be purchased to add an extra 12 months or 25,000 splices for these versions. For Palette 2 Pro, 2S Pro, or 3 Pro, the warranty period is 24 months or 50,000 splices. To learn more about our warranty, please visit:
mm3d.co/warranty
We do not issue refunds or returns once a unit has been shipped from our fulfillment centers, except for extenuating circumstances. We're transparent with our customers about what can be accomplished with Palette, and are happy to speak with them to ensure Palette can meet their needs before they purchase the product.
You can purchase a Palette through our website where you'll be able to pay with PayPal or credit card. If you'd like to request a larger order, or require a different payment method, you can email us at support@mosaicmfg.com and we can create an invoice for you or find a payment solution.
Yes, we're happy to offer a 10% discount to veterans and accredited educational institutions. If you qualify, please send us a message at support@mosaicmfg.com and we can create a custom invoice with your discount applied.
We have two fulfillment centers; one located in the US, and the other in the UK. Depending on your order location, Palette will ship from one of these locations. If you have any questions about how we ship your Palette, please contact us at support@mosaicmfg.com prior to placing your order.
This would depend on the country of the mailing address: For countries in the EU, we ship from a UK warehouse and no VAT is charged at checkout. However, the customer will be charged upon receipt of their package. For Canada, there will be an import fee as we ship from our US warehouse. For all other countries, VAT and import taxes will vary. We do not include any of these costs or fees at checkout.